Google have announced plans to take on Microsoft and Firefox with their own browser. The Google Chrome browser will be based on the existing Webkit rendering engine and integrate not only tab-based browsing but Google Gears and the latest version of the company's search technology, called Omnibox.
Omnibox, which will replace the address bar and search bar in the Google Chrome browser, will offer search suggestions, popular pages and history pages. Omnibox will also automatically replicate a webpage's own search box, allowing site and query strings to be entered simultaneously: for instance, entering "amazon", pressing tab and then the search term will automatically go to an Amazon search results page for that term.
The Google Chrome browser will also include some of the more popular features from existing rivals. It will have a homepage of nine instant-access shortcut thumbnails along with recent search history and recent tabs. Tabs themselves will be switched to above the window, not below it as on Firefox. There'll be a privacy mode - which Google are calling an "incognito" window - within which no record of surfing will be kept. Malware and phishing will be protected against, with the Google Chrome browser automatically downloading a constantly updated list of harmful sites in the background.
An updated JavaScript Virtual Machine, called V8, will also be an integral part of the Google Chrome browser, which has been specially developed in Denmark. It promises to speed up JavaScript and reduce memory bloat, which will make a significant difference in webapps. It'll also flag up any core offenders, whether webpages or plug-ins, that use up more memory than they should. Chrome will allow webapps to create their own, address and toolbar free windows, better replicating traditional desktop apps and blurring the differentiation between the two.Intended for release as an open-source project, the Google Chrome browser has no specific release date attached to it. -SlashGear Take Google Chrome for a test drive! Download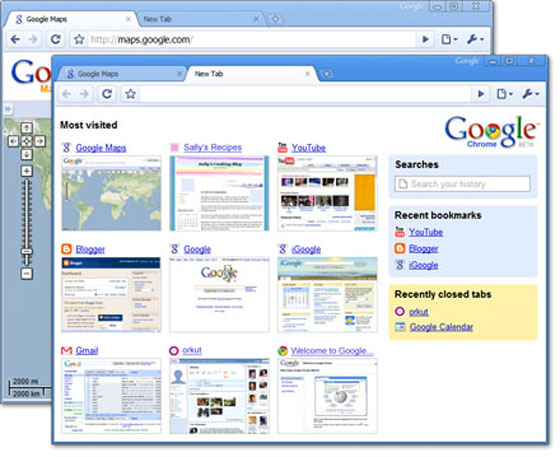 SPEED
Chrome is based on the open-source rendering engine WebKit–the same engine used by Apple's Safari browser and Google's own Android mobile platform. WebKit is known for its speed, responsiveness and smart memory management. And Chrome will undoubtedtly use it to render the full-blown applications we so often encounter on the Web these days with ease. Adding a bit more speed to the browsing experience is a JavaScript Virtual Machine called V8, which specifically accelerates JavaScript's in-browser performance.
STABILITY
Chrome is also multi-threaded, meaning it can perform multiple processes at the same time. Each application is given its own memory and its own copy of global data structures, just as it would be in a typical operating system. Applications will launch in their own windows. And if one should hang or crash it won't affect the others, or crash the whole browser because it's essentially been partitioned off in its own sandbox.
USER EXPERIENCE
Chrome features a tab-based design where the tabs appear above the browser's URL window and control buttons. Each tab has its own controls and address bar called "Omnibox" with auto-completion features as well as previous and suggested search functions. New tabs will open with a display of a user's nine most-visited pages.
PRIVACY/SECURITY
On the privacy and security front, Chrome offers an "Incognito" window, which logs no browsing information whatsoever. Beyond that, it allows only pop-up windows that are user-initiated. And it maintains a continually updated list of harmful sites and warns users if they should try to browser them.
STANDARDS
Finally, Chrome will include Google's open-source local runtime Gears and be released as an Open Source project.
THAT'S NO BROWSER. IT'S AN OS…
It is an effort that seems to be striving for quite a bit more than Microsoft's Internet Explorer 8 and Mozilla's Firefox 3. In fact, with its view of the Web as a Web of applications and its multi-process/multi-application design, Chrome almost seems more an operating system than a browser, doesn't it? Funny, isn't it. Google's long been rumored to have been developing a browser and an OS. Who would have thought they'd be the same thing. -AllThingsD
Are you interested in Google Android and the HTC Android Dream phone?
Head on over to Android Community to watch the latest HTC Dream phone videos demoed at Google IO 2008, leaked images of T-Mobile G1 Android phone and much more!